2021-11-30
VCV Rack 2 Free and Pro released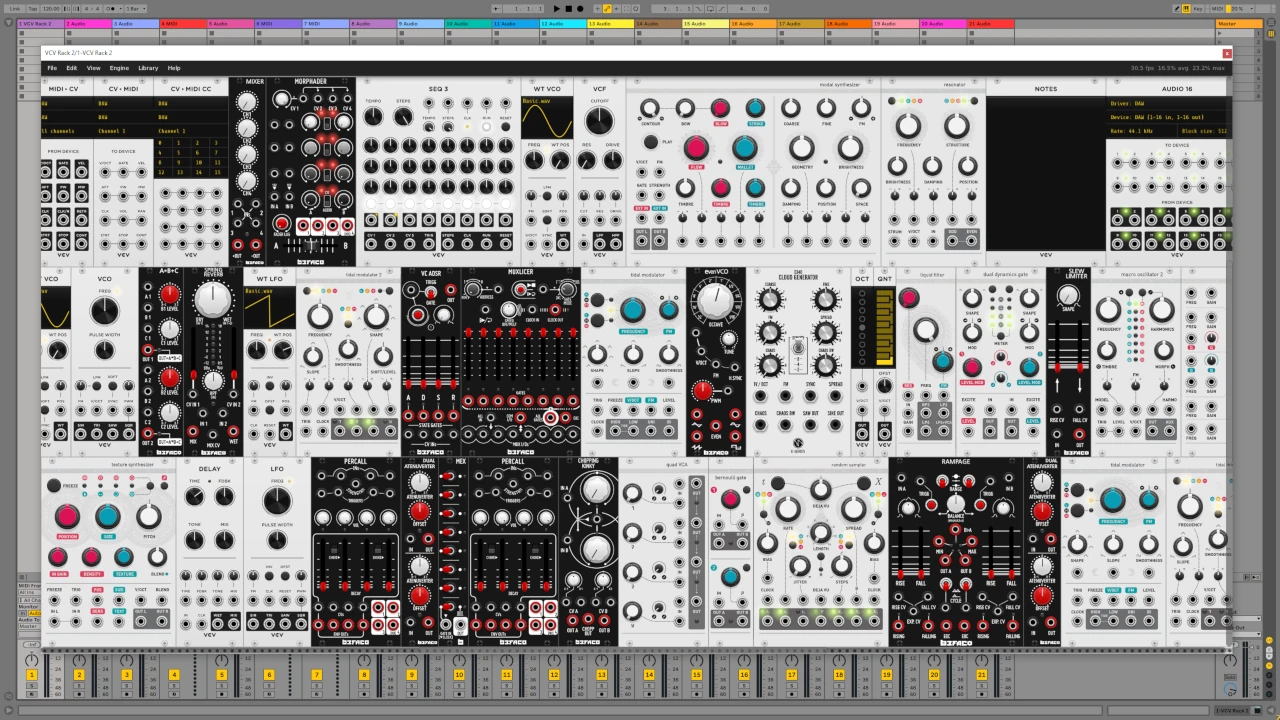 After 2 years of development, the latest major update of the virtual Eurorack platform VCV Rack is here. Rack gives you the full flexibility of a Eurorack modular synthesizer with the convenience and portability of DAW software. Rack 2 comes in two variants:
Free (open-source): Standalone application.
Pro ($149 regular price, $99 until 2022): Standalone, VST2, more plugin formats coming soon.
A bundle containing Rack 2 Pro + VCV Drums + VCV Sound Stage is also available until 2022 for $139, having a regular price of $209.
Here are some of our favorite new features.
Dark room mode to save your eyes at night with adjustable room brightness.
Module selections to save, share, edit, and move around selections of modules. (New .vcvs selection format.)
Enhanced module browser to zoom, favorite, and sort your module collection.
Redesigned UI and built-in modules.
Port tooltips, context menu, and key commands for faster control of patch cables.
Optimized real-time engine with multiple audio interface support (if supported by manufacturers' drivers).
Add/remove individual modules from the VCV Library to fine-tune your module collection.
See all 100+ new features in Rack's changelog.
A VST plugin is included in Rack 2 Pro for full integration into your DAW.
Save patches inside your DAW project.
Instrument/effect plugin.
Up to 16 audio input/output channels.

Process vocals, guitar, etc. with Rack as an effect plugin.
Perform Rack as an instrument plugin with 8 stereo (or 16 mono) outputs.
Send recorded or live DAW tracks directly into Rack using 8 stereo (or 16 mono) "sidechain" inputs.

16 MIDI input/output channels.

Generate MIDI for other DAW tracks with Rack's sequencer modules.
Record and play back notes, gates, and CV with MIDI clips in your DAW.

Parameter automation of up to 1024 knobs, sliders, and buttons in your patch so you can record, play back, and tweak your modular performance.
Multiple instances with low processing overhead.
Offline rendering when exporting your project mixdown or pre-rendering tracks.
Resizable plugin window.
For more information and to download or purchase, go to the VCV Rack 2 product page.