Featured Artist: Omri Cohen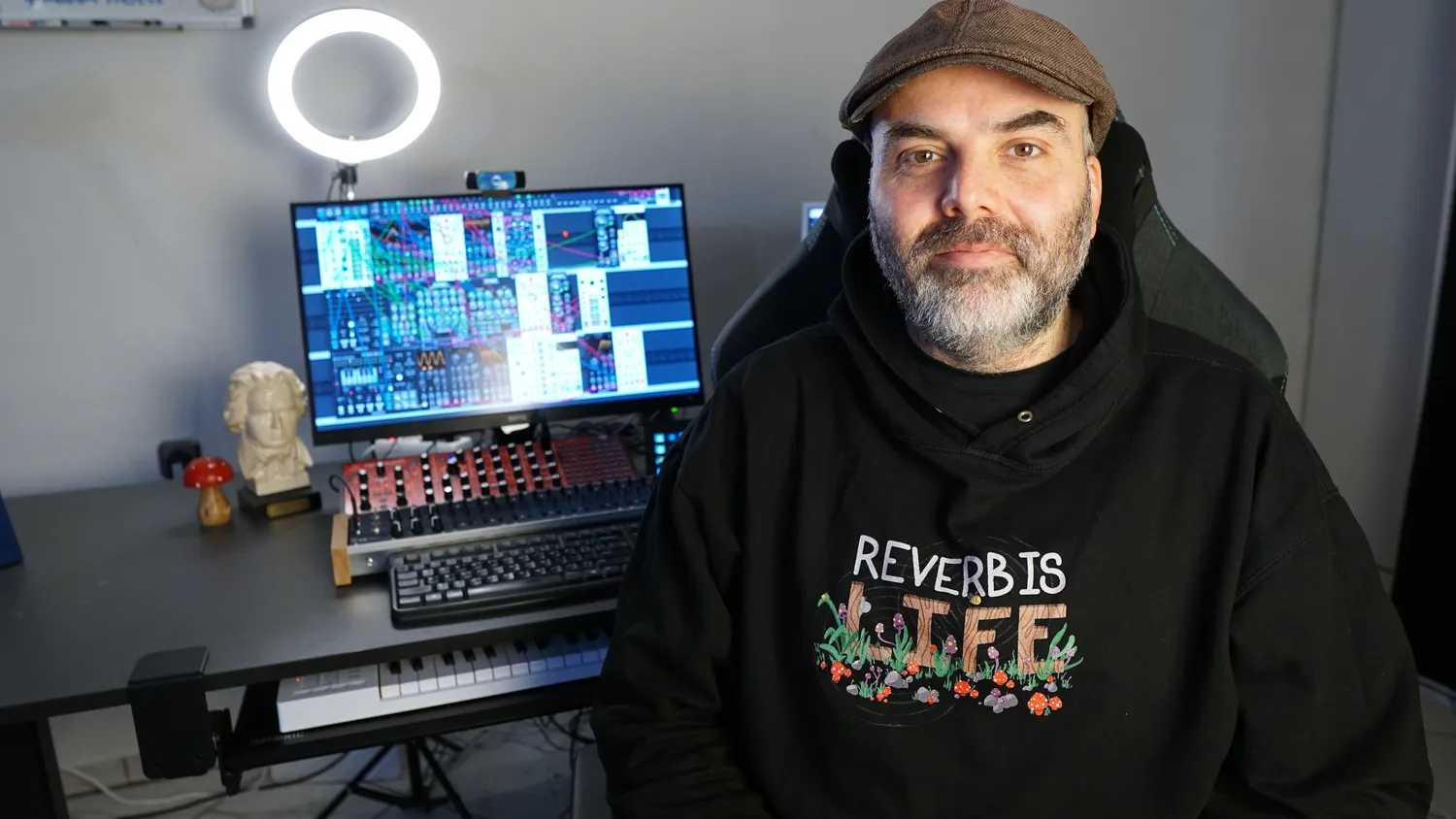 Ambient musician, multi-instrumentalist, and modular guru Omri Cohen started working with VCV Rack in 2017 and has become a fixture of the online patching community ever since. That passion has led him to make work teaching patches and exploring modules, via YouTube and Patreon, alongside his prolific ambient and experimental music releases. But for all the patching love, don't be surprised to find flute, kalimba, and other instruments in the mix, too. We asked Omri about his journey through modular (hardware and software), how he works, and - of course - get a huge list of modules and techniques to try. We wouldn't expect anything less.
Peter Kirn, CDM: What was your background in music, or how did you get started? I know you're a multi-instrumentalist, so of course you've got some musical background!
Omri Cohen: I actually started out as a drummer in high school. Two of my friends approached me one day during recess—one of them played bass, the other guitar—and they told me that they want me to form a band with them. I told them, "great! I'll be your crazy synthesizer guy!". They said in reply, "no, you'll be our drummer." And that's how I became a drummer. But it's funny that already back then, without knowing anything really about synthesizers, I knew that I wanted to be this crazy guy, dressed in a lab coat, covered with cables, making weird sounds.
But yeah, I started playing the drums, diving deeply into punk and punk rock. A few years later, I started playing the guitar and then got into Shpongle and Raja Ram, and started playing the flute. Then, at one point, I got really into classical music and started playing the piano, doing my best to play works from Beethoven, Bach, and Chopin. After a while, I started composing for the piano, guitar, and flute, and recording the pieces I wrote. There's even an album named Reveries on my Bandcamp page, which is the only non-modular album there. It's an album of 6 pieces for piano I composed and recorded. I'm really proud of it and will keep it there on the Bandcamp page, so if anyone is buying my discography, they might get a surprise.
Pre-modular, what was your experience in synthesis? Had you any education in the topic or how did you learn?
After a few years playing the drums, I slowly got into electronic music, psytrance specifically. The psytrance scene was huge and very underground and attractive. Infected Mushroom, Hujaboy, Astral Projection, and others were a big influence on me. At around 2006 I decided to try and learn how to produce similar things, and I attended an "Electronic Music Production and Sound Design" course. If I remember correctly, we worked with Cubase version 2 or something similar, and Reaktor as well. That said, I remember that I just couldn't connect to the whole thing with clocks, sequencers, noise, and so on, and I just worked with Cubase and samples, creating pretty bad "psytrance."
But eventually, I gave up and deserted everything electronic in favor of the piano and classical music. Back then, I didn't know exactly why I couldn't connect to this workflow, but today I understand that working inside a DAW was just not for me.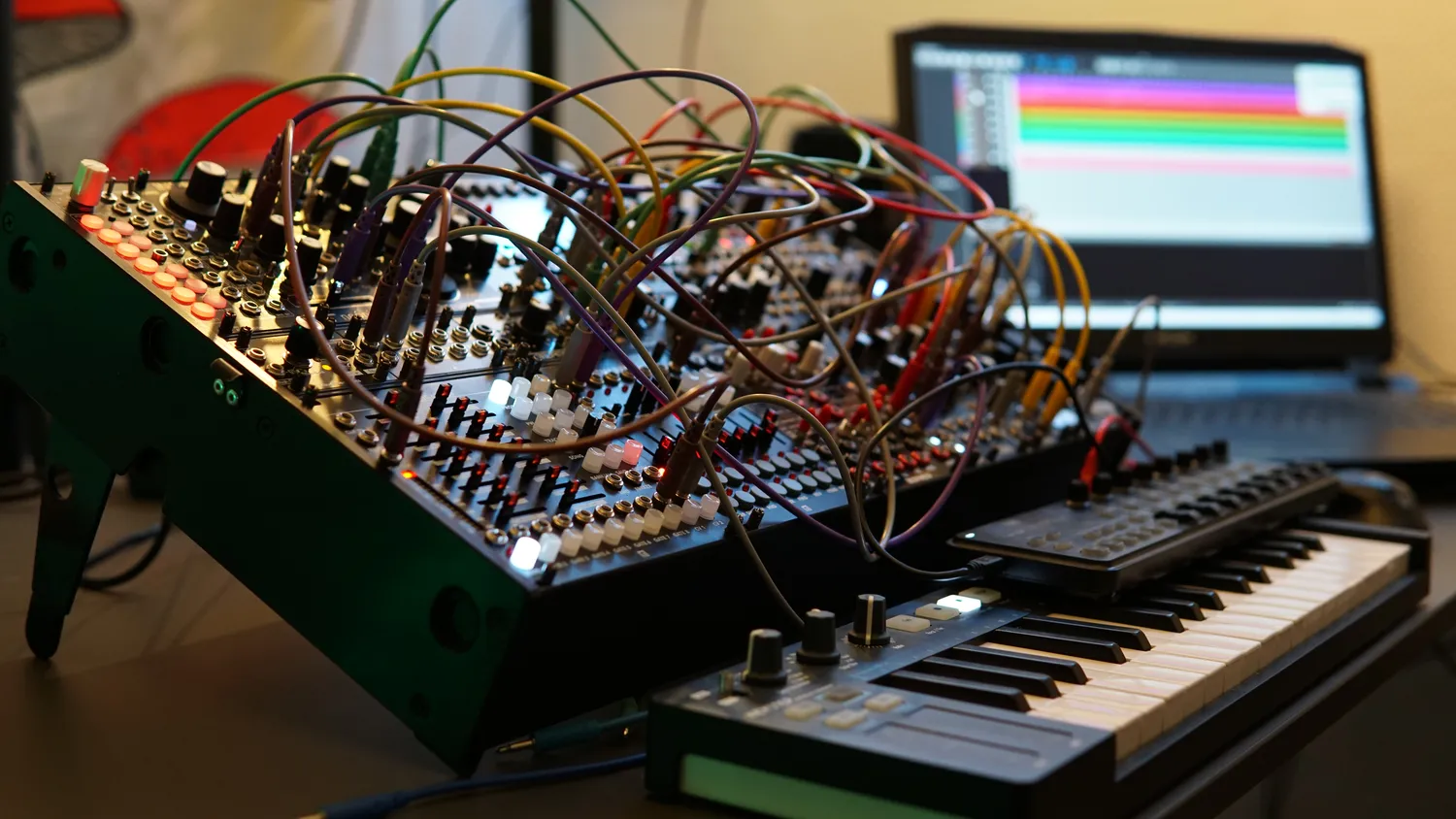 So you got into modular synthesis by starting with VCV Rack, right? How did you first come to use Rack? (I remember you were there more or less at the start!)
Yeah, so then VCV Rack came along. I will never forget that day. I saw a post by Synthopia on Facebook about it, and for some reason, I got super excited and decided to download it. I opened it, and just couldn't believe that something like this was available. Again, I'm not so sure why because it has been a long time since I was interested in anything electronic but, for some reason, this felt special.
I was so excited, I directly wrote to one of my teachers from that music production course I took and told him about this. I didn't speak with him since the course, but I had to share this with him. My life changed ever since. This was around September 2017, so it was really right at the beginning. I fell in love with it, with the workflow, with the sounds, with the community, and in some way, went full circle with the crazy synthesizer guy I wanted to be in high school.
You then had Rack turn into a gateway for hardware modular, right? Do you use those two together typically, or what's your software/hardware workflow?
Yes, VCV Rack was definitely the getaway for hardware modular. I mean, I used various MIDI controllers to get the tactile experience with VCV Rack, but it was not enough, and I wanted to give the full experience a try at one point. It was almost two years after using VCV Rack exclusively. I had a hybrid setup for a long time, using VCV with hardware with the help of the ES3 and ES6 modules from Expert Sleepers, and later on the ES9.
As it usually happens though, my system got too big, and it started to get overwhelming using both hardware and VCV Rack, so I started working with VCV Rack by itself, and hardware by itself. That said, I still have a hybrid setup with the Expert Sleepers ES9, multitracking my hardware with either Bitwig or Reaper, and adding to it when needed. Usually, I will add lots and lots (and lots) of reverb in Bitwig/Reaper.
I still compose also with VCV Rack, but treat it as a system by itself. I might add an external synth or acoustic instrument, but the main instrument is VCV Rack. My main use of Rack is for experimenting, learning, and sharing ideas with others. And yes, I bought so many hardware modules after using them in VCV Rack. I got Rampage, Noise Plethora, Branches, Vinca, and many more, after using them and enjoying them in Rack. I find Rack an amazing place for practicing, so I still discover new ways of using these modules in Rack, even though I have them in hardware as well.
Now that you do have hardware, do you approach the software in a different way at all?
Oh yes, totally. The nature of hardware being a limiting environment—you can't have five Marbles and seven Plaits—can lead to interesting ways of patching. I then take those into VCV Rack and explore them there. I really like the idea of having a fixed setup, as I have in hardware. Of course, the only constant in modular is change, but still, in hardware, things change slower than in software, so I enjoy building fixed systems in VCV Rack, and using them for exploration, sound design, and just messing around.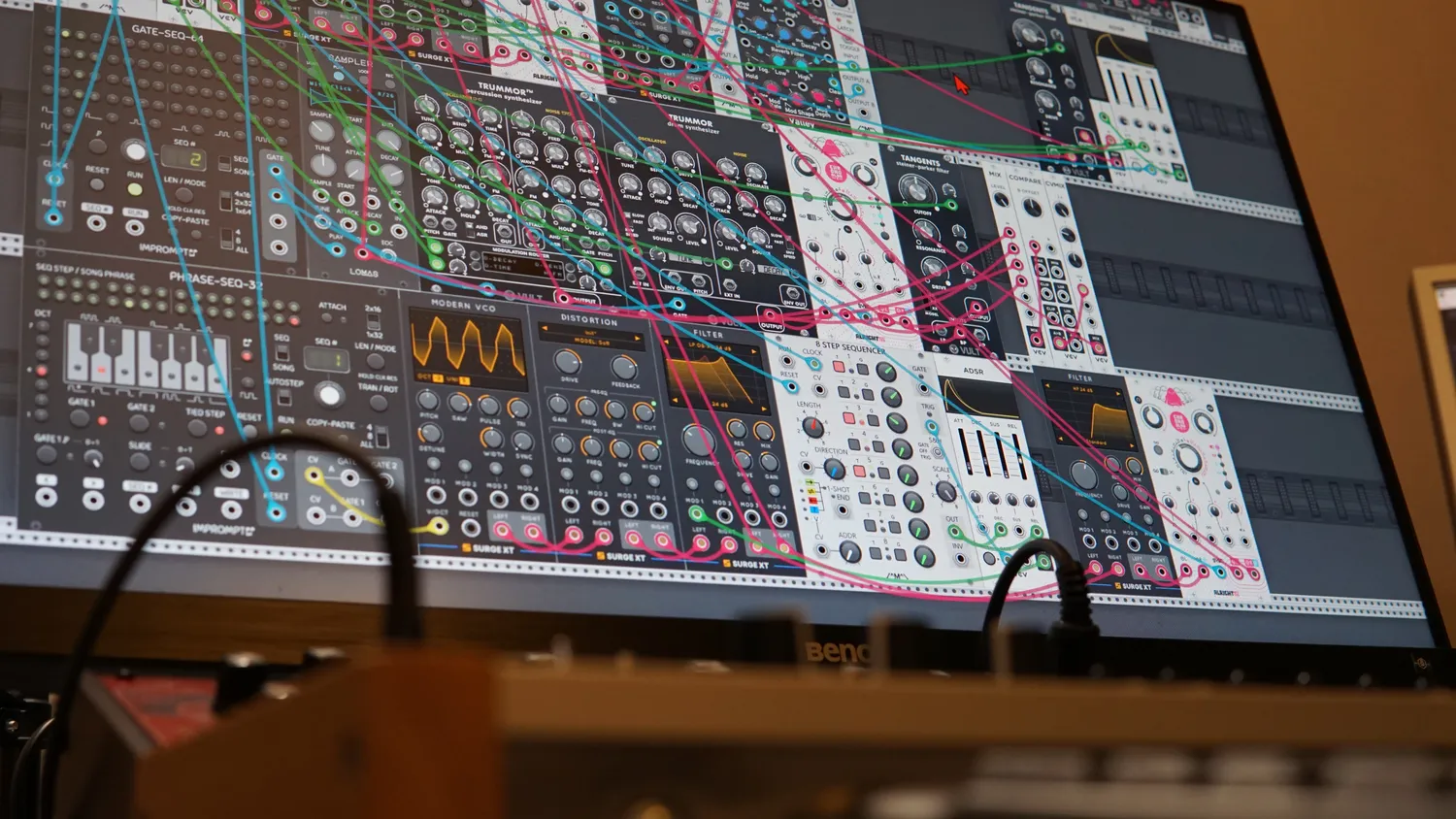 What was the appeal of VCV Rack to you, specifically?
VCV Rack was the first software modular I used, and I got used to the workflow very quickly. I also really like the fact that it's free. Not because of the money, but because it means that everyone has, more or less, the same setup, which makes sharing ideas so much easier and fun. I tried other modular software like the Grid in Bitwig and Voltage Modular, and they are all great, but VCV is very much an emulation of hardware, which means that most of the things that work in VCV Rack, will work also in hardware. And again, there are so many virtual versions of hardware modules that are also available for free like Instruo, Befaco, Nano, Mutable Instruments, and many more. Sharing ideas, experimenting, and researching before you buy – all of this is so much easier.
I truly believe that VCV Rack is the perfect platform out there for learning, experimenting, sharing ideas, and calculating your next steps in hardware. Another aspect of VCV Rack that is quite unique is the fact that there's such a big community around it. Everyone is excited about what they're working on, everyone is sharing patches and ideas. (Thank you Patchstorage.com!!!) There's an amazing community of developers that develop so many beautiful modules for VCV that take the VCV experience to a whole new level.
Looking now at your channel, you've just been unbelievably prolific. It's maybe even fair to say that Rack's evolution has been partly driven by folks finding your videos. Was there a point when you knew you were getting more serious?
I think that pretty quickly I realized that I felt at home in the modular environment and I wanted to keep practicing, keep learning, and find my direction in this endless world of synthesis. I'm not so sure if there was one point where I decided to go all in, but things just evolved slowly, and I kept at it. The best thing is that I'm still learning each and every day, and I still feel like this journey has just begun. I really enjoy what I do, and I'm grateful that other people also enjoy my work, and I'm happy I can be a part of this lovely community.
With so much to cover, how do you organize your ideas? Are you keeping a running list of modules you want to explore or ideas to generate?
Yes, indeed. I have a very long list of ideas, topics, modules, and things I want to explore and share with others. At one point, I used to upload three, four, and sometimes even five videos a week. Maybe not all of them were long tutorials, but there was so much I wanted to share, I just kept on making videos. After a while, I realized that people just don't have time to watch and digest everything, so I slowly reduced my output. That just means that the list of ideas is just getting longer and longer.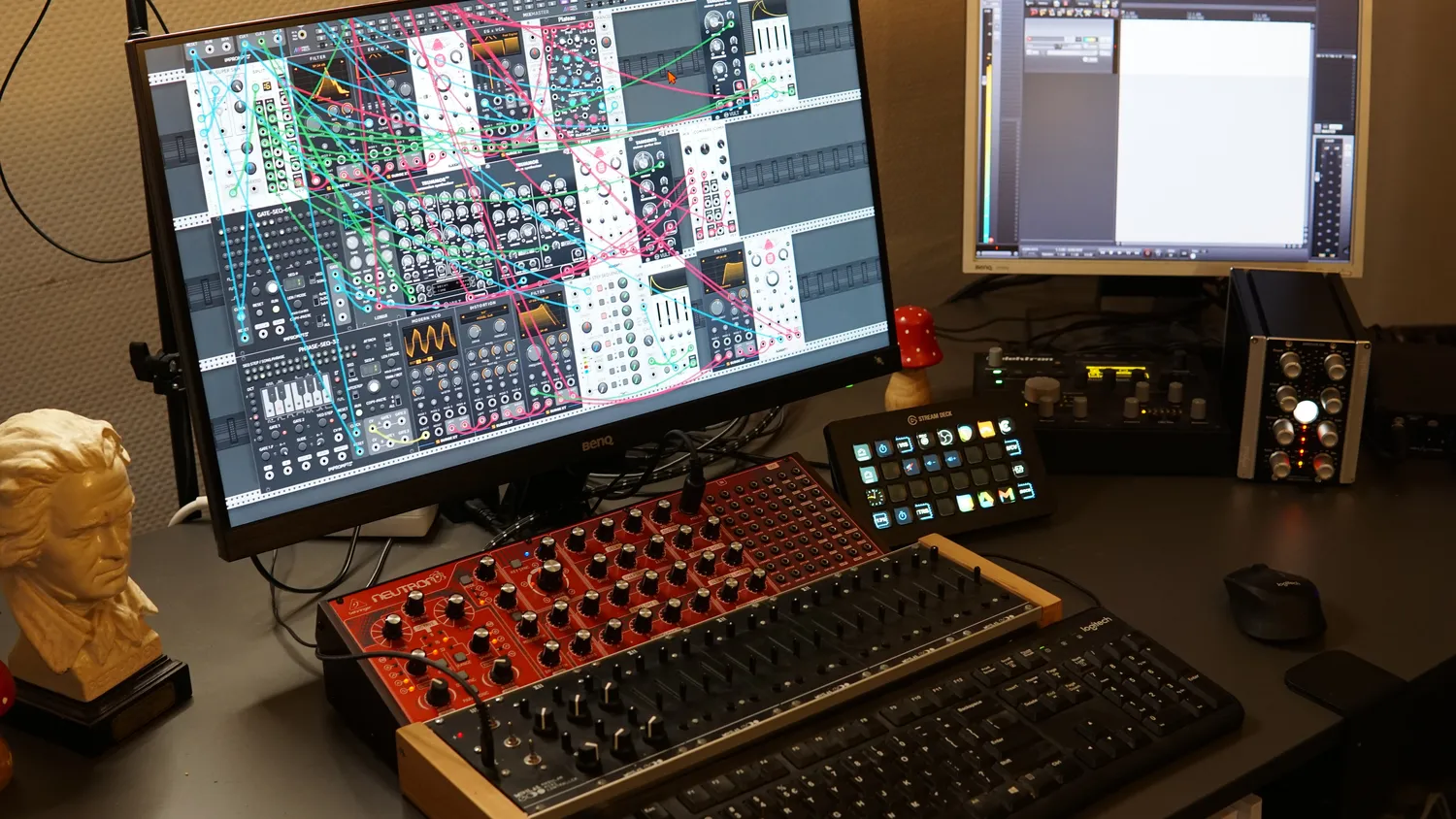 To what extent does this teaching role impact your music making? Do you ever have to pause those how-tos just to make some space for yourself that's just your own creative world and not trying to think how to make this into an instruction video, etc.?
When I first started making videos, my thought was, the best way to learn something is by teaching it, so that's why I started. I wanted to learn everything, and the videos were my "excuse" to spend hours upon hours covered in virtual patch cables, making car alarm sounds. I consider myself lucky that people are interested in what I do, and I can continue exploring modules and techniques that I otherwise might not have had the time to explore. I think that I enjoy sharing ideas and things I discover so much that it's all mixed together, so I will explore something while thinking about how I can share it with others.
I do keep some space for myself, though, and that's when I sit down to compose with my hardware setup. I can lose myself for hours just patching, listening to repetitive sequences, and adding more reverb to everything. But yeah, everything is mixed together at this point, and I actually quite enjoy it.
Which modules are you most excited about at the moment? Any evergreen favorites? Hot new s&!#?
Oh man, yes. I'm really in love with the whole Surge XT collection. It's such a great addition to VCV, and it really takes it to the next level. They sound amazing, they have great functionality, and they are absolutely gorgeous. Steve Baker and Pyer worked on the design, and they did an amazing job. Steve Baker is also the designer of the MindMeld collection, together with Marc Boulé, which has the MixMaster module (among other beautiful modules) that is almost in every patch I build. And Pyer and Marc Boulé created the Geodesics collection together, which is definitely one of my favorites. They just released a new complex oscillator that is quite interesting and unique, Dark Energy. Marc Boulé is also behind the Impromptu collection, which I also use all the time.
The Clocked clock module is also in many of my patches, and the various sequencers in this collection are simply brilliant, deep, and intuitive. There are so many other collections that I love and use all the time, I really don't want to miss anyone… Flag, Valley, BogAudio, JW, Count Modula, PathSet, ML, and so many more… People often ask me to do videos about my favorite modules, but I never know where to start.
That said, there's one developer I would really like to mention, and that's Leonardo Laguna Ruiz who is behind the Vult collections. Leonardo was also there from the early days, and we became friends very quickly and often collaborated on various projects. The interesting thing about the Vult modules, other than the fact that they are very high quality, is that they made their way from VCV into hardware. There are already quite a few Vult modules available in hardware that were "born" in VCV Rack. Leonardo is also behind the VCV Drums collection, which is a must for anyone who is interested in analog-sounding drum modules that are not sample-based.
Anyway, I can continue like this for a long time… It's amazing what a beautiful community of developers exists in VCV land. So many brilliant minds, and so much passion. The various developers are a big part of what makes VCV Rack so special.
Oh, and by the way, I collaborated with a few developers on fungi-inspired modules. :) With PathSet, I collaborated on Truffles, Panther Cap, and Hyphae, which are all about audio manipulation and processing, so, for example, Panther Cap is a polyphonic granular sampler, and with Truffles you can load or record audio, set slicing points, and have various controls over each slice like pitch, play direction, and even send and return per slice. And, I also collaborated with Flag on a dual delay/looper module Prism Of Perception with the possibility of scanning through the buffer, adding a ducking effect, send and return, and more. In both cases the process was very inspiring, and I'm very excited about the modules.
There's another module I collaborated on, the PatchMaster module that I collaborated on with the MindMeld team. Among other things, it's a module that is designed to be used as a control interface in VCV Rack for fixed setups. Basically, you build a chain of modules, and then use PatchMaster to map the controls you feel are important to have access to, and build your own custom setup. For example, I have various builds I did of physical synthesizers like the Moog DFAM, or the new Taiga synthesizer from Pittsburgh Modular, so instead of dealing with the modules themselves, you have a clean interface you can zoom into and concentrate on.
Apart from exploring your channel and (hopefully) supporting you on Patreon, I know folks can also try out your complete instruction. Can you give us a guide to those, or where would you suggest folks start if they're new?
Most of the content I create is on YouTube (Omri Cohen and Modular Fungi), but there's an algorithm to consider, and long-form videos are usually not well received on YouTube, so I decided to create various courses for beginners to VCV Rack and modular in general. There's a whole course about the basics of synthesis in the modular environment, which is great for beginners, and there's also a more practical course where I actually build patches, show various approaches, and more, which is for beginners but also for more advanced users.
There's also a free course all about getting started with VCV Rack, which is perfect for people who are interested in using VCV Rack, and need some help with the technical stuff like useful shortcuts, installing modules, and so on. I'm constantly working on more courses, of course. I also share a lot of extra content on Patreon, and I'm very proud of the lovely community that I have there. I'm truly lucky!
---
More News